Please Select
Your Industry
Free Banking Resume Templates
Bankers require an update resume where they can add the details of their designation, job description and an updated scope of their opportunities. These resumes are time consuming and often you won't have an idea about the layout and the essentials which have to be added. But with our site your work reaches to the minimum level as you need to pick an existing idea and add your relevant details such as name, designation, address and basic contact information as needed. The resumes already have professional details which users can customize according to their job experiences and levels.
+
Entry level candidates and graduates often face challenges when creating a resume. They tend to fill up the resume with irrelevant and fake details which covers up a page or two but in terms of career it marks a bad impression. There are many sections which can be added and modified to make a resume appear to have potential in front of the employer.
Start by adding contact details which should appear prominent and at the top of the page. Your contact details should have your full name, address, email address and a phone number. Some professionals prefer to add their LinkedIn profile so that employers can review their endorsements. Other than LinkedIn avoid adding other accounts or links in your CV.
Add your objective statement which should be a short summary of your skills and offerings for the company. You need to grab the attention of the employer by writing a concise yet comprehensive summary.
Your skills come in next – there should be almost 6 skills which you can add. Avoid including vague or cliché statements, be firm on what you can do but avoid dragging the details.
Add educational and qualification based details, follow a pattern which should have the name of your college, passing year and the city. If you are an entry level candidate add your job experience in this section with the job responsibilities you had. Students can enter information regarding relevant projects, accomplishments and awards. For many companies having a voluntary experience and internship is a plus.

Source
+
Your banking resume should cover maximum two pages. An ideal employer will look for your contact details at the top. Then add the objective statement which should have a summary of your experiences and skills. Take a look at some examples over the internet with similar job designations and industry as yours for a better idea. Write down the work experience with relevant details and job description particulars in 3-5 sentences. After this add the education section, which should only highlight the latest degree or program completed. In the end, add an award or accomplishment section if needed.
Avoid adding any irrelevant experience which is outdated or not related to your career and field. Adding odd jobs will only clutter the present information. Stick with the basic specifics and sections while create a draft. Read it a few times and try making it concise but related to the job description provided by the employer.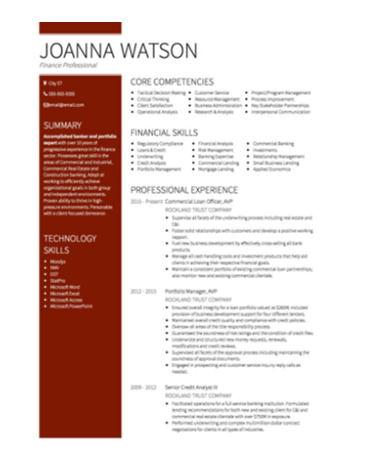 Source
+
There is no comparison between the two – to start a career, ample information and knowledge is required and an employer needs to make sure that a candidate is capable enough that he/she has completed a degree program. Experience on the other hand is polishing your skills constantly and being a part of the job market. New expertise is constantly being introduced and candidates are taking certifications, courses and internship programs along with voluntary experiences and part-time opportunities to advance their career on a maximum scale. Job experience is as important as education, as it provides you necessary information about what the industry is looking for, what new designations and job tasks are available and what requirements are changing for these job positions. In terms of resume, always add both sections but elaborate more with work experience and skills.
+
A minimum educational requirement which can create an impactful resume is a 4 year degree bachelors program. Students often get their associates degree in similar fields and get advanced certifications and diploma but completing a 4 year degree program acts as an advantage which is approved by many job opportunities and given an edge by the employers too. Banking is a vast field where skills and experience count; in order to stay ahead in the business and to make sure that employers are impressed by your educational background, candidates can take additional courses related to finances and accounts. These courses will help them in the long run too and add more leverage in the work position. It is necessary that candidates add relevant qualifications to their resume and update it regularly so that they stay ahead of the banking market.
Source
The following abilities are also a set standard for many job positions in the aviation field:
Federal Aviation Regulations (FARs)
Airline Terminology
Passenger Communications
Inventory Control
Emergency Procedures and Evacuation Protocols
+
Adding hobbies and internets in resume was an old style which was supported by employees and employers alike. It was thought, that this will create a better communication and interaction level between an employer and an employee. However, when times have passed there has been a drastic difference between resume style and the layout which is preferred in the banking industry. Adding irrelevant details are avoided and employers prefer minimalistic designs and content. This shouldn't be mistaken for adding fewer details, but to be concise, short but complete the points in a resume. This is the same for all types of sections which are in a CV. A resume is a summary of your professional career and that should remain free of any extraneous details and information which are of no use to the company.