Please Select
Your Industry
Free Defense And Space Resume Templates
Defense and Space Design is an elaborate field where architects, designers, engineers and astronauts along with military personnel combine. It can be daunting task to create a resume for yourself with such extreme precision and include all the required specifications and details. Some of these professionals don't find the time to update their existing resumes as well; however we are here to design and personalize your resume for you. Select an existing template based on your job's industry and then find the required sections to fill them up with necessary details. Users just need to select and get, while we take care of all the rest.
+
Being an aerospace engineer sounds quite exciting, and with good reason! You'll basically be working with and on vehicles that are meant for military use. You should also be capable of designing and building systems that can be of use in air, sea, and land battles.
The systems and products you design as an aerospace engineer should be able to withstand any kind of threat that could reasonably be expected within a military environment. This includes any attacks as well as climactic changes.
In order to get to this level of expertise and specialization, you should have a background in something like mechanical and systems engineering, structural analysis, propulsion, and design. If you do choose to aim for a job as an aerospace engineer, you may also want to specialize in flight testing, structural analytics, structural design, and mission systems. Be prepared for some risk-taking and thrills! You may also have to work with quite a bit of software in order to make sure aircraft function is the best it can be.
To ensure you get more details just browse online resume templates and resume examples of those already in the industry.
+
The education level for a space systems engineer should be Bachelors in Science or a Masters of Science in Engineering or any field that's related to technical subjects. They should also have a minimum of two years' experience in a relevant field. The space and counter-space system require some understanding, of programs like Simulink, MATLAB, and similar tools.
Of course, in addition to all this, they must have a high level of security clearance as well. If they're going to be working in the defense sector, they may be part of some top secret projects. Hence, they should have undergone an SCI reading sometime in the past two years. In some cases, prospective employers may want candidates to take a polygraph test along with their TS/SCI clearance.
It also helps if the engineer has knowledge of C or C++ Embedded Development. This is essential if they're going to be working with computer programs for testing and development processes. You may look at some resume examples and resume samples to see just what this entails
+
You should absolutely make some mention of the software and programs you've been used to working with. This experience might come from your studies or your previous jobs. You can touch upon the details of their acquirement in any of the CVs you hand in. For instance, you may want to mention MATLAV, C/C++, Java, Python, Fortran, etc. Any other visualization computing tools should not be left out when filling in the resume templates.
The specific keywords you use would depend on the kind of job you're applying for. For instance, if the job descriptions states working with development contractors, talk about budgets, testing methods, schedules, and test objectives.
Remember that some keywords are to be avoided in resumes and CVs, especially in your bio-data. Any words with religious or political ramifications should be strictly avoided. Only use those words which are relevant to the industry and employer you're applying to.
If you have vast professional experience, try getting ten whole years' worth of that into one paragraph. Inundate this with information if you have to, but don't spill it out onto more than one page. It may even be possible to summarize twenty years into around 100-200 words. The following resume sample may help you out: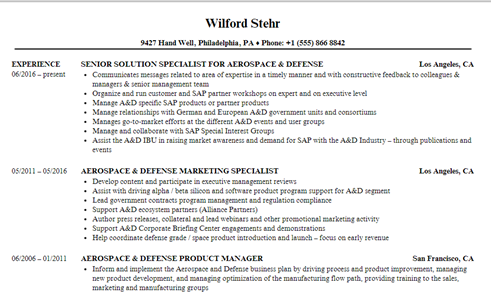 Source
+
The positions in the defense and air industry are very much technical for the most part. You should hence highlight these skills in your CV or resume. It is only with the relevant skills that you can hope to catch the eye of a recruiter within this specific sector.
Some of the skills required for such a position may be that of an engineer, flight inspector, electrician, systems analyst, etc. However, there are several positions that fit into this industry, so you want to see which skills your dream job requires and see if you have them. If so, be sure to highlight them in your bio-data.
You may, for instance, be responsible for the design and construction of electrical equipment for certain aircrafts or even spacecrafts. You may also have to do some repair of design work on battle vehicles such as tanks. Make yourself aware of just what would be required of you before you settle down to construct your resume.
If you don't have much experience in this industry, you would want to apply for an entry-level position. In such a case, your relevant education should be highlighted in order to prove that you're worthy of the job.
+
The sector for defense and space is a highly sensitive and important one. There is a need for the highest quality and reliability when checking any vehicle or other product. Anyone working on something for this industry or supplying it to them must hence concern themselves in complying with guidelines. They should also aim for the highest quality, durability, and safety precautions.
If you're going to apply to the defense and space industry, then, you may have to prove certain certifications. If you work in manufacturing certain items, you may even have to get AS 9100-certfified. Be sure to mention this in your resume template to assure prospective employers in your industry you're to be relied upon for complicated and sensitive projects.
Again, rely on keywords to make your resume stand out. You can do this by touching upon your areas of specialization, which may include configuration management, control of work, traceability, etc. or you can check out resume samples to get ideas.