Please Select
Your Industry
Free Farming Resume Templates
If you are looking for a reliable service to create a resume for your farming experience then you are in the right place! We have pre-made designs and templates which users can simply change as per their needs, requirements, career objectives, focus and contact details. Other than that, we have added the professional tasks and skills which are required of you. This creates an excellent idea and works as a draft of your own resume. You can scroll through the available options in the farming industry and select the one which is the most closest in terms of creating the ideal resume.
+
When you want to start constructing and designing your farm resume, you should keep in mind the high demand for rentable farming land and agricultural farming. Hence, promoting your services and contribution to a farming organization could be quite complicated. In your resume, you want to assure farm owners that your management skills are capable of running their land with efficiency.
In order to show yourself up in the best possible light to prospective landlords, you should word your resume in much the same way as a regular one. Some of the important elements you can enter into a resume sample creator are:
Your bio-data, especially biographical background. this may even prove a sort of familial link to the land owner, making yourself more trustworthy in their eyes
Your farming plans for the future
Experience in farming and a few details about the acres, technologies, equipment or training you're familiar with
Input on environmental factors such as water sources, soil erosion, etc
Insurance information
Strategies to manage risk
Any references that could put in a good word for you
A resume example like the one below may help clear this up further:
Source
+
While experience is the section that would help you the most in getting the farming job of your dreams, education can really help out as well. There are several degree programs that are especially tailored towards farming. Even if you've had a formal education in something else, you may find several farming certification or education programs that could help you specialize in a certain category.
A prime example of a degree catered towards farming interest is that of Agricultural Economics. This is available at both the bachelor or associate degree levels. Within this degree, you would learn about crop production, crop demand, and the distribution of the goods a farm produces. Students can also brush up on their skills through the theory they learned as well as with practical experience.
Along with the learning procedures, students of agricultural economics also gain knowledge of policies, legislation, and can hence participate in farming at a profession and organizational level. They are thus further equipped to be productive and efficient farm managers. They would also be able to test out their theories on actual farms to see how they work out.
Having said that, if you have the right kind of degree then it is best to present it in a prominent location on your farming resume which is obviously in the education section. However, that is not the only location which you could show off your relevant degree. Browse through resume templates in a resume builder and you'll notice that you can also add this special "knowledge" in the summary or objective statement.
+
If you've been in the farming profession for some time but want to go into a management career, you may have to get some credentials first. If you have the academic credentials already, you can become certified for farm management. This is a designation given by the ASFMRA (the American society of Farm Managers and Rural Appraisers) or whatever the relevant organization is in the county of your residence.
You may have to take a comprehensive exam and pass it, along with completing a whole farm plan. When you hold the certification by the ASFMRA, potential landlords would know you have a lot of expertise in several strategic areas of farming. Those would include budgeting for farms, irrigation technology, seed selections, fertilizers, and soil conservation. This is why it is best to include this type of certification in your resume template without hesitation.
If you want to specialize in a certain kind of farming, like dairy science or pest control, you may not have much choice in the way of university degrees. However, there are some certified farms, ranging from small to medium in size, which offer training programs for farming interns. These may be up to several months long and would cover several importance subjects with great thoroughness. Look up online resume samples online to see which type of training are in most demand and go for it.
+
While technical skills like planting and rearing know-how is important, farming resumes that showcase certain soft skills would be truly appreciated. Incidentally, these would also help you out in your interview and be an impressive addition to your CV. Online resume template builders may help you include the following skills:
Learning as you go: When famers are in training, they're taught to try out everything they read about in a practical manner. They need to be adaptable to certain situations that they may have ever experienced before. This sort of skill is important if one is to get successful harvests as well as cater to fluctuating demand.
Communication: Famers usually have to work within a supply chain, and hence have to interact with a lot of buyers and sellers in their everyday business. Listening to everyone's needs and being able to reach suitable compromises is a major step towards fostering valuable business connections and professional relationships. Communication skills are also needed for negotiating prices and other factors when running a farming business.
Organization: Some farmers may have to work in logistics. They would have to make sure that the transportation, storage, and delivery of products is on time. this also goes for planting and harvesting within the proper seasons
In resume template builders these are predefined field that you just edit or add them as they're if you possess the desired skills to make your farming resume outstanding.
+
Your resume objective is basically a summary of your skills, experience and maybe your education in the field you want to work in. For a farming resume, you need to showcase just why you should be the person to take on a position in such an important sector. Have a look at online resume examples to get an idea of what should be included in the objective summary of your farming resume.
Bear in mind farmers are the people that are responsible for the growing, planting, harvesting, and cultivating of crops and livestock. In short, if it weren't for farmers, many people in the cities would most likely go hungry. This is why you have to prove how confident, knowledgeable, and authoritative you are in the realm of faring and the activities it entails. If you're using a resume template, then you can add these skills in your experience between the lines along with your responsibilities.
Make sure your agriculturalist's resume objective should let prospective employers know that you have skills such as management, decision-making, and critical thinking as well. You should also have certain knowledge about biology, food production and processing, and/or engineering. Since farmers usually have to over daily activity that's concerned with running a farm, you should focus more on your knowledge and experience
As far as your education is concerned, resume objectives are usually too short to give non-farming credentials much space. If you've taken some courses or, preferably, a sort of internship related to farming, add in that knowledge by all means.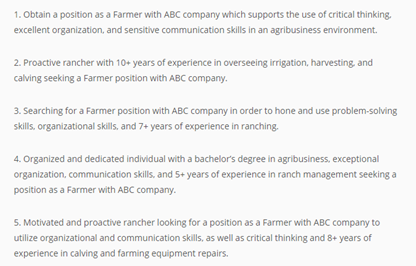 Source