Please Select
Your Industry
Free Food Services Resume Templates
Whether you work as a professional chef or a junior pastry maker, your resume should be updated and well created in all aspects. The content of the resume is tricky to create, especially if you are not well versed in designing and creating a resume. The focus of an employer is to judge through that document how well you are able to market yourself. We have an entire database of pre-made templates which you can use if you are willing to create an outstanding resume in less time and no stress. Select and edit to get the perfect resume now!
+
When you aim to work in food services, there are several hard and soft skills you can showcase in order to be considered for a job. As you advance in your food services career, you would develop additional valuable skills which you may then use to climb further up the ladder.
When working in this field, you may have to exercise a combination of skills such as management, arbitration, conflict resolution, and even artistic talent. There's sure to be some use for any and all skills that you have, but you should tailor your resume according to the job requirements.
The skill set required for various food services jobs would usually be very different from each other. You may also have more responsibilities as a manager in a restaurant than as a manager in a café. Hence, you should make sure that responsibilities are clear-cut or be mentally prepared for some flexibility before you start making your resume or CV.
In order to better understand just what to include in your resume and what to leave for later. You can check out some readymade resume templates to understand such points further. These are usually available at a resume sample creator website like Free Resume Templates.
+
If you are talented enough and a quick learner, you would probably do well in the food services industry. The education level of a candidate, whether high or low, is usually not given much importance unless a specific position calls for it.
Usually, food delivering service companies require quite a bit of extensive training on the job itself. You should be aware of basic food, health, and sanitation routines, though, since these would be considered a bonus in anyone's resume.
However, there are some courses and training programs that you can join in order to apply for the higher positions within food services. For instance, attending a culinary school would greatly help you on the path to becoming a renowned chef. However, it is your performance in the job as well as how you deal with a team that would determine whether you would get the job or even make it in the food services sector.
There are also some degrees offered at both the Bachelors and the Masters level which could help your resume stands out from the crowd. These include Food Service Management, Culinary Arts, Culinary Management, etc.
+
Your resume or CV needs some serious tailoring if you want to apply for a more senior position. You may have had several years in the restaurant business, for example, and now want to become a restaurant manager instead of just a server.
After using your bio-data to fill up information in a reliable résumé sample creator you should write an effective summary of your professional identity so far. Talk about how you've demonstrated your leadership abilities and can prove to be a reliable revenue generator due to your customer cultivation and problem solving skills.
Next up is your experience that's relevant to leading and managing a team of workers. If you've led some severs at your place of work, put that in. You may also want to mention that the restaurant was popular, fast-paced, and served a delicate kind of cuisine that required careful handling.
+
Even if you're just starting out in the food service industry, don't think that you have a total lack of experience. There must be something that you have under your belt that could be of use to an employer in food services.
Of course, it helps if you've volunteered anywhere as a student pursuing your degree. This could even include some shifts in the school or college cafeteria. If you list food handling as part of your job in any way, you just may get a foot in the door and stand out from other applicants.
Along with your volunteer experience, be sure to get a food handling certification. If you worked part-time as a waiter or waitress, you could have achieved an award for good customer service at some point.
Plus, you may be bilingual, has knowledge of POS systems, and know something of safe food handling. Mention all this in your experience section; you never know what may come of it! Frame your experience as part of your skills as well, since this is the part you want to concentrate on. The following resume example could help you in this: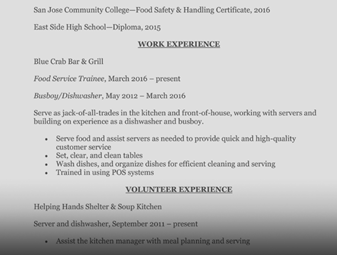 Source
+
Before you start working at any job within the food services industry, some countries or states may require you to undergo a series of health checks. Food can get contaminated not just by the bacteria on counters or by spoiling with age, but also the person handling it. Even if you're qualified to handle food professionally and safely, your health may have a huge impact on how safe the food is.
If the organization you're applying to has a health check requirement, you may be able to get one by visiting your local health department. The prospective employers themselves may have some preferred service where they require all their employees to get a check-up. However, if you just want to be on the safe side and include a health check in your resume, you can simply go to the hospital and get a clean bill of health.
Having a health check would prove that you have no diseases, hidden or apparent, that could affect the safety of the food you handle, and you're a conscientious employee. This means you can be free to cook, prepare, plate, and serve as you like in the food services sector. Be sure to mention this in your resume template.