Please Select
Your Industry
Free Manufacturing Resume Templates
Manufacturing resumes are up on site which guarantee you promising results and an exceptional exposure to the manufacturing industry. It doesn't matter what the level of your career is or how many years have you excelled in your field, our resumes are available for all levels and delivers the precise information which is needed to land some first-rate job opportunities. Create your CV's in our resume builder which is an easy tool to use. You can edit the information or sections provided or include some highlights or skills even further which will be as per your job and work requirements.
+
Manufacturing industries are all about hard work and dedication. They are looking for the "roll up your sleeves and get to work" kind of individuals. Although it is more of a technical industry, it does require an educational requirement which should be achieved before applying.
To get selected in a manufacturing industry, candidates should complete a four-year Bachelor program of Science in Engineering. They can also pursue higher studies in this field by obtaining a Masters in Engineering along with other professional certifications. It is totally up to the candidate and the choice of the position which he or she is interested in.
That being said, it is also very crucial for the candidates of manufacturing engineering to specialize in different fields that come under the manufacturing industry. It can be in the field of manufacturing process designs, manufacturing systems operations, etc.
Professional certification is not so important. However, according to experts, obtaining one can help you in your professional life by keeping you up to date on the development of industries and boosting the careers of the candidates in different ways. It can be in the form of getting them future promotions or getting them better job opportunities in other industries. You can check out resume examples online to see current trends, which certification are most desirable in manufacturing resumes.
Source
+
The manufacturing industry is a large one that provides great job opportunities in different fields. Before creating a resume, one needs to be sure about what specialty you want to pursue. This will also require an ample amount of time for the candidate to think and decide what specific skills he or she possesses and what their interests are.
To get an idea of which field to get into, take a look at resume samples online of the different type of work: Assembly Worker, Factory Laborer, Machine Operator, Product Designer and much more. To decide from these never ending choices of work, the candidate needs to sit back and think over the many possibilities so that he or she can work in the future with ease and interest.
Once decided, the candidate needs to make the resume for the specific job and position he or she wants in the manufacturing industry. As different jobs need different skill sets and have various requirements, it is important to create different resumes for different positions and be specific in one's approach. Many people make the mistake of creating one resume for different jobs which are not even remotely related to each other, resulting in failure of interview call selection. In such situations, it is best to use an online resume template builder to get different options of resume samples. All you have to do is input your personal and professional information, and tweak the content for specific skill sets and experiences to customize it according to the niche you want to target.
+
Experiences are your weapon against the candidates that you are competing with when it comes to job selection. If you have a set of work experiences, do not forget to make a separate section of it in your manufacturing resume. It will not only gain you more confidence but will also be a great help for the employer in judging what skill sets you possess.
According to many experts in the field of recruitment, the candidates who mention a different section for their past work experiences get a second look at their resumes. This may give them an edge even if the task was not completed in the first place. It is also very crucial for the candidates to show experience in projects that require team work. The manufacturing industry requires this skill at high levels. Employers are well aware of the fact that with the careless attitude of one team member, many others may get affected.
If you do not have any experience in the field of manufacturing industry, make sure you add in any achievements from your past experiences so that it covers up the need of the experience section. You can give more details about these in your CV. Moreover, it is also very important to list any small experience you have any as it can have a great impact on the employer, e.g. safety records, production standards, quality control, etc. Take a look at online resume samples to get stock of how experiences can be listed even if you are a new graduate with only passing internships or have coordinated with some manufacturing department in your previous company.
Source
+
Resumes can be tricky when it comes to their chronology. It is important to see the basic layout of the resume and take care of what comes first. In the process of creating a manufacturing resume, you should keep every section in a logical flow and sequence. A manufacturing resume that is streamlined and in flow, looks better than the ones which are created in a rush. You can minimize your time spent on laying out your resume and instead focus on the information by referring to a free resume sample creator which offers plenty of resume templates to choose from.
Your manufacturing resume should start with your name and bio-data. This should be as short and precise as possible. Continue with the summary of your basic qualifications and core competencies to show the employer what you specialize in. Then, touch upon your professional experiences with a few accurate details so that the employer has a clear image of your abilities. All this may then be followed with your professional development. A sample of this nature could be viewed below: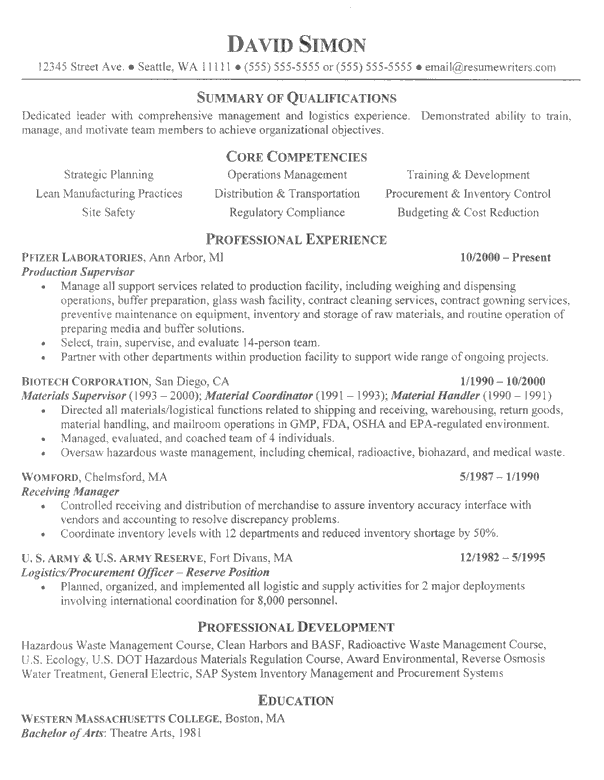 Source
+
Resumes are your personality, abilities, interests and hobbies listed in a brief document. However, your resume should not be too long, nor should it miss out on important details.
The standard size of a resume should be one page. If you have a greater number of work experience from the past 10 to 20 years, your manufacturing resume can go up to two pages. In any case, it should not be lengthier than that. While writing the resume, the resume template builder can help you avoid adding extra and potentially unnecessary information. The intricacies should go in your CV.
You should take some guidance from our resume examples online to see how to tackle the issue of length. If the resumes are way too lengthy, it makes a bad impression on a potential employer. It also conveys the message that the candidate is probably having a hard time explaining his or her attributes in the resume